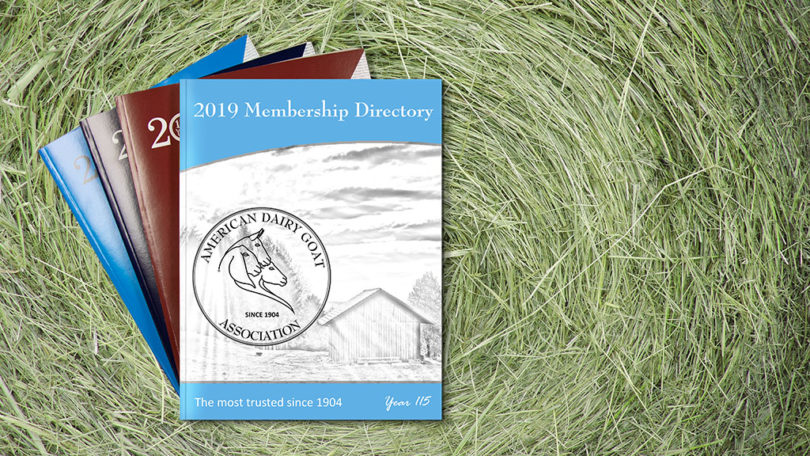 Event Advertising | Directory Advertising | Directory Ad Rates | Directory Ad Sizes
The American Dairy Goat Association, with over 20,000 members, represents the largest group of dairy goat owners in America and includes members from several other countries. The ADGA Membership Directory is distributed to all new members and annually to all members either digitally or in print, giving the ADGA Membership Directory a greater circulation than any other leading goat publication.
If dairy goat owners are serious enough about their animals to register them and maintain their association membership, you can be sure they are an audience who aren't afraid to spend money on farm related products and services to benefit their dairy herd.
Event Advertising
Two annual events reach a large number of dairy goat owners, the ADGA National Show in June or July and the ADGA Annual Convention in October. Both of these events have many opportunities for advertising through various sponsorships. There are also vendor opportunities to make direct sales or have an information booth at both of these venues.
For more details about ADGA Event Advertising see: National Show Sponsors, National Show Vendors, Annual Convention Sponsors, Annual Convention Vendors
ADGA Membership Directory Advertising
All advertising is accepted at the discretion of the American Dairy Goat Association and should be consistent with the mission and programs of ADGA. ADGA reserves the right to refuse an ad at any time for any reason. Accepting an advertisement does not constitute an endorsement by the American Dairy Goat Association.
Advertisers will receive a complementary copy of the ADGA Membership Directory.
Limitations – Breeder Ads Now Accepted
The past limitation for advertising breeding stock or semen has lifted by a unanimous decision of ADGA's Board of Directors. Breeder advertising will now be accepted with the following statement applied to all Membership Directory ads, "The listing or reference to any service or product does not constitute or imply ADGA's endorsement or recommendation of such service or product. ADGA does not assume any legal liability or responsibility for the quality, accuracy, completeness or usefulness of any referenced service or product."
Directory Ad Rates
Special placement locations for 2019 have been filled. However, full-page and other sizes are still available. We hope you'll take advantage of the opportunity to reach new buyers. Receive advertising opportunity notifications by email >>
| Size & Location * | Print Ready Rate ** | Editing Required Add |
| --- | --- | --- |
| Inside Front Cover | $400.00 | $30.00 |
| Inside Front Cover R Facing | $380.00 | $30.00 |
| Inside Back Cover | $380.00 | $30.00 |
| Inside Back Cover L Facing | $350.00 | $30.00 |
| Full-page (7.25" W x 9.25" H) | $340.00 | $30.00 |
| 1/2 page (7.25" W x 4.75" H) | $200.00 | $20.00 |
| 1/4 page (3.5" W x 4.75" H) | $120.00 | $15.00 |
| 1/8 page (3.5" W x 2.5" H) | $70.00 | $10.00 |
* Special placement such as inside the front cover, inside the back cover, the page facing the inside front cover and the page facing the inside back cover are highly sought because of the number and frequency of views to those pages. All special placement ads are full-page.
** Print ready means that ads are submitted at the correct size and proportions  and do not require additional editing before being published. If ads require design, resizing or other editing the additional editing fee will be added.
Directory Ad Sizes

Card size (3.5″ W x 2.5″ H)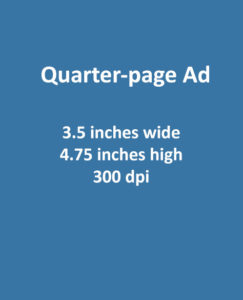 Quarter-page (3.5″ W x 4.75″ H)

Half-page (7.25″ W x 4.75″ H)

Full-page (7.25″ W x 9.25″ H)
2019 Directory Ad Deadline
Advertising for the 2019 ADGA Membership Directory is closed. Ads for the 2020 ADGA Membership Directory should be submitted no later than March 01, 2020.
Contact For Advertising
Email for advertising  questions or ad submissions: advertise@adga.org
Request Notifications
We can remind you when promotion opportunities are coming up. Let us know how you would like to promote your farm or business so we'll only send the information you want. My Promotion Preferences >>