(Video above is an overview of what can be done in the ADGA Next Generation (NG) online software.)
This is where instructions for ADGA's Next Generation Software can be read or downloaded. The Next Generation Software replaces Member Services. The login can be located on the ADGA.org homepage or directly using this link: https://app.adga.org
Download the Complete Instructions
ADGA Login Instructions Only PDF (Updated 7/21/2021)
ADGA Next Generation Software Instructions PDF (Updated 7/13/2021)
Next Generation Highlights
Recommendations | Differences | Login (Had Previous Online Account) | Login (Never Had an Online Account)
Next Generation Recommendations
The Next Generation Software has been developed to support all current operating systems and web browsers including mobile. However, if you experience any technical difficulties or have trouble navigating the site, please use a laptop or desktop computer and the latest Google Chrome web browser. Please attempt to complete the work using this combination before contacting ADGA support.
Technical issues can be exacerbated due to out-of-date operating systems and browser software. Please keep your systems up to date and your experience using the ADGA Next Generation software will be better. If your systems are out of date, the chance for errors increases. Mobile device users may also experience issues with screen resolution as our software is best when viewed at a screen resolution of 1920 x 1080.
Differences Between ADGA Next Generation Software and the Previous Online Member Services (OMS)
Several improvements have been made to NG and there are plans for several more to make managing your ADGA membership and registrations much easier.
Based on usage analysis, the most accessed sections of our Member Services portal have been moved to the Home page of this application.
Members and non-members have access to NG, but have different privileges and prices.
More actions can be performed online such as registration edits, goat transfers, and herd name/tattoo authorizations. Please note that some requests such as registration edits and goat transfers still require the original certificate to be mailed to the office with a note stating the request was paid for online and some of the enhanced functionality requires staff approval for the work to be completed.
If work is completed online, error reports are being sent electronically so you don't have to wait for an error report to be delivered by mail.
All Transfers and Registration Edits require the original certificate be mailed into the office, with a completed and signed transfer section when submitting transfers, along with a note or statement that they have been completed and paid for online.
How do I get access to the Next Generation Software if I had a web account already?
Once you reach the login page, click on the Forgot Password link to request an email with a link to set a new password.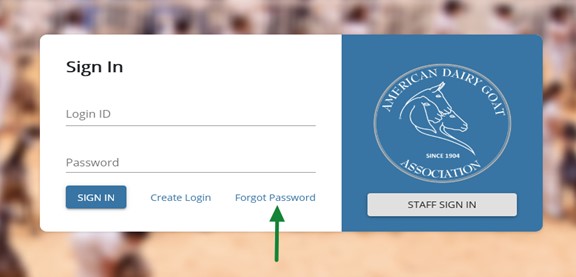 You will be asked for your Login ID/Username from your previous Member Services Account. Depending on when you created an online account in our previous Online Member Services, your previous account may have transferred to our new Next Generation Software. You will need to know the Login ID/Username you used when creating your old online account. In most cases your Login ID/Username is not an email address. Your old Login ID was used in all emails sent to you with the following subject lines as "Dear [Login ID/Username]":
ADGA – Confirmation email / set a password
ADGA – Password reset requested
ADGA – Password change notification
Once your login ID is entered, click on the RESET PASSWORD button to continue. If you are unsure what your Login ID/Username was or receive an error that your Login ID is not found or active, you will need to contact ADGA Customer Support for login assistance.
You will receive confirmation that your password reset link was sent to the email address associated with your online account. Use the link in the email to access the reset password page where you will be asked to enter your new password in two boxes. If you are unable to locate the information needed to reset your password, please contact ADGA Customer Support specifying the information you are missing and request help logging in.
How do I get access to the Next Generation Software if I never set up a Member Services online account?
When you have reached the login page at https://app.adga.org, click on the Create Login link to get started.
A new form will appear that you will need to complete to create your online account. This form offers toggle switches for some questions to allow those with and without an ADGA ID to set up an account and allow for a business or organization name instead of a first and last name.
Completing this form without listing an ADGA ID and PIN will create a new non-member account with a new ID that is separate from any of your previous ADGA member data. If you have an ADGA Account number and want to have access to your membership and see currently and previously owned goats, you will need to use the toggle switch to enter your ADGA ID and PIN when you create your login.
Subscribe to ADGA Updates
If you have unsubscribed at any time in the past and want to receive exclusive information from ADGA including important information about your ADGA Next Generation online account, subscribe now: https://go.adga.org/subscribe