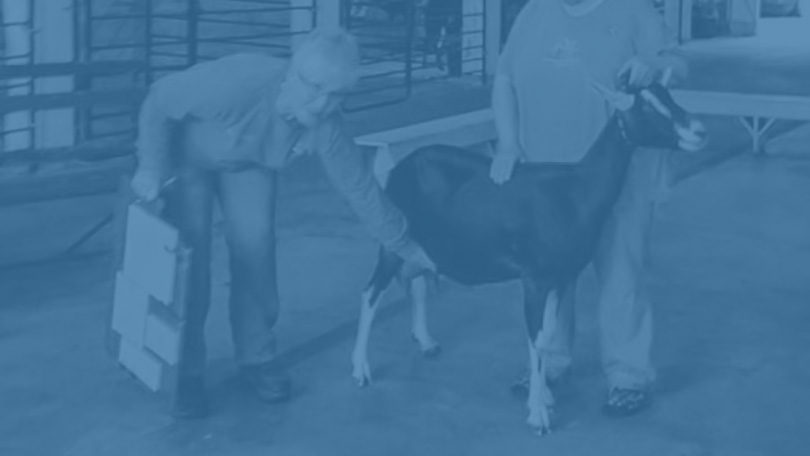 Behind The ADGA Linear Appraisal Program
Through the efforts of the Linear Appraisal Staff and Committees, program direction is established. It is also the responsibility of the committee, appraisers and ADGA staff to train and develop appraisers to perform their duties to desired standards. Once these individuals arrive at a session, there is assurance that they have received the preparation to provide members with accurate and beneficial evaluations.
Currently, the ADGA Linear Appraisal program has 10 individuals who can work seasonally as Appraisers, a Linear Appraisal committee, a Performance Program Manager and clerk.
Our appraisers are trained professionals with expertise in the assessment of dairy goat conformation.
An appraiser is independent but embraces the program direction. They are organized and able to think objectively in a variety of situations.
They take pride in being able to educate about the program and believe customer service is paramount as they enjoy interaction with ADGA members.
They must be able to enjoy life on the road and be a team player while working apart.
How are appraisal skills developed and advanced? Good training requires a good system. In terms of ADGA's appraisal program, that system is a training, refresher and monitoring program.
The goal of training and monitoring is quality assurance, measured by the accuracy and uniformity of evaluations to a desired and developed standard. In addition, public relations, information value, and member satisfaction are very important indicators.
Training sessions allow for:
Group and individual interaction to build skills and expertise as well as to gain consistency in a very short period of time
Access to large groups and a variety of animals and breeds
Field situations and dealing with realities
The annual refresher session adds to the training and field expertise through:
Identification of trends and biases
Review of the skills needed to go back into the field and continually improve upon individual performance
Maintaining consistency through immediate feedback from all program perspectives
Safety and health practices
Several means are available to monitor the performance of appraisers and the program:
Analysis of questionnaires submitted by herdowners
Member feedback received through phone calls, farm visits, and correspondence
Continual analyses at the individual and program level
Appraiser feedback
What Does It Take?
Attendance at an evaluation workshop where readiness to be a trainee is assessed
Once advancing to trainee status, attendance at a training session which is held in conjunction with the annual refresher
Following approval to continue training, a minimum of 10 days training in the field with an appraiser.
Assessment by trainers, committee and staff for readiness to work independently.
As An Appraiser, You Provide
Working experience in the dairy goat industry
Knowledge of linear and structural traits and how they correlate with function
Post-secondary education (preferred), or comparable relevant experience
Practical knowledge of dairy goat conformation
Exceptional abilities in customer service and relationship-building
Proficiency with computers; adaptable to new technology
Valid driver's license and proof of insurability
Ability to arrange travel and scheduling tasks
Ability to communicate well
ADGA Offers the Appraisers
A post training $24-$34/hr. pay range for technical work
Paid training & expenses if accepted into the program
Minimum wage at the highest state level for non-technical work such as travel – no matter if in a state with a lower MW. Currently this is $13.50 with many states on track for $15/hr.
Paid overtime per the rules of each state. This may be daily or weekly and is guaranteed
Employer contribution to the ADGA pension plan once eligibility requirements are met
Workman's compensation coverage
Per diem rate to cover meals
Use of company credit card for any program expenses
Double time pay on an ADGA holiday
Extra stipend on top of wages for field trainers
Pay at technical rate for any mandatory attendance events such as refresher or other meetings
Pay for time spent arranging travel and lodging
Vacation days and time when the stop has cancelled are paid
Vacation days are paid even if not used during a trip but earned
Guarantee of no less than the previous daily rate model
Option to provide the days and times of the year for work; no required minimum
All expenses paid related to the linear sessions (travel, lodging, mileage, equipment)
Special attention to scheduling personal herd session to coordinate with travel commitments
Work that might coincide with traveling for personal reasons to appraise and earn extra income
Offered special sessions and workshops throughout the year
Annual opportunity to order custom work apparel at no cost
24/7 backup while in the field
Opportunity to provide technical expertise on the LA committee