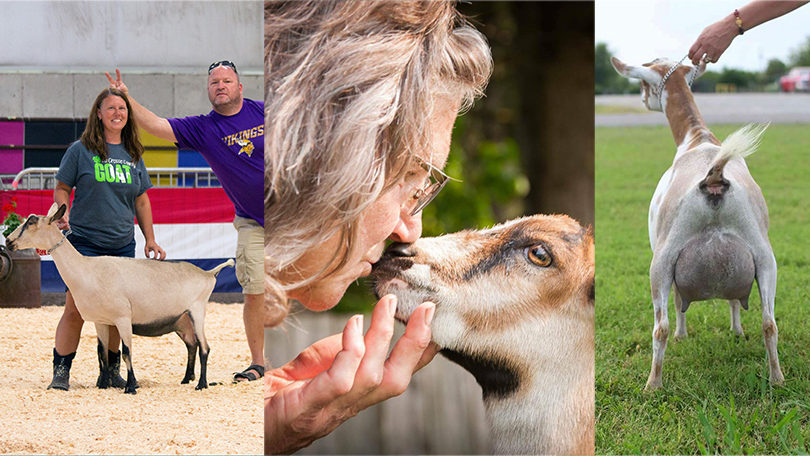 ADGA Members have many interests with one common passion — the dairy goat.
Benefits of Being an American Dairy Goat Association Member
Join ADGA and enjoy great benefits!
Reduced fees for registering and transferring goats
Membership Directory with names and addresses of other ADGA members and local dairy goat clubs across the US and around the world
Contact information for goat-related supply companies (including magazines, books, equipment, novelties and more!)
ADGA Guidebook of rules for the Association (including information on ADGA programs and breed standards)
Participation in DHIR (Dairy Herd Improvement Registry) testing program, which gives you recognition for production records earned by your herd
Opportunity to serve on an Association committee dealing with specific areas of problem solving and goal setting for ADGA
Participation in Linear Appraisal evaluation of your goats
Reduced DNA Typing fees
Eligibility to apply for ADGA Scholarships
Participation in official ADGA shows – some 1200 held each year – all across the nation; also information about annual National Show held in locations rotating around the US
Quarterly edition of the  ADGA News & Events  to keep you informed
Multiple Fact Sheets and flyers on various goat-related topics
Announcements of our Annual Meeting and Convention which features a week-long schedule of seminars and programs, plus an exciting auction of top quality dairy goats!
Ready to join? 
See Membership Options and join online
Download the New Member Application from Forms
Request a Free Information Packet
We would be happy to send you a free information packet to anywhere in the USA or Canada or answer your questions. Request a free information packet or ask questions using one of the methods on our Contact page.
Learn More
The History of the American Dairy Goat Association
How The American Dairy Goat Association is Governed
How Improvement Programs set ADGA Apart