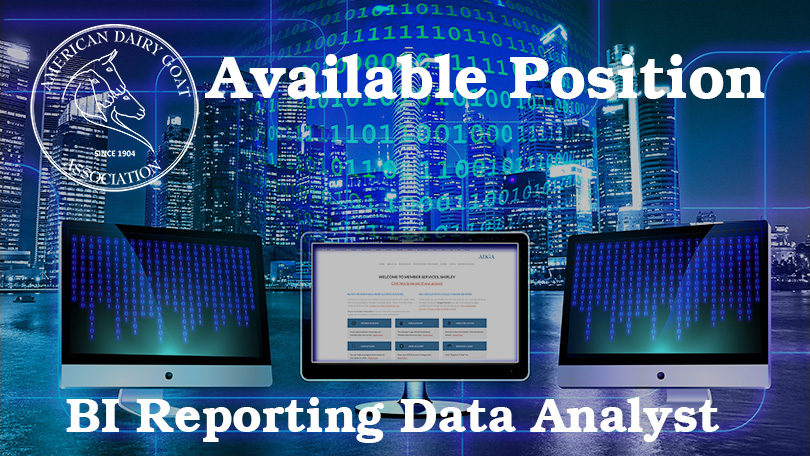 Description
The American Dairy Goat Association (ADGA), the largest and fastest growing dairy goat organization in the United States, is seeking experienced developers to join our development team to provide a new Web facing, Cloud Based Application Platform, and enabling new and enhanced "Self Service" capabilities to/for our membership.
The Product Development effort includes: Establishment of a Data Storehouse (landing, cleansing, storing information from our systems of record in a variety of file formats), Functionally replacing our mission critical capabilities (Association and Member Management and Reporting, Goat registry and pedigree management, enhancing Show and Sanctioned Show capabilities) in addition delivering new and improved capabilities to our Performance Programs (Linear Appraisal, Milk production, Milk Component evaluation, DNA, genetics and Herd Improvement initiatives)
The successful candidate will play a key role in transitioning our I.T. and Business Processes, from our present environment (Oracle 10g, VB.NET, VB6, Crystal Reports, Knockout-JS, JavaScript, C#) to our envisioned future environment (Cloud Based, New Framework, New Content Management system to control Navigation and User Experience, AJAX Middle Ware and MS SQL-Server)
Responsibilities
Analyze customer requests for feasibility, Develop project scope, Manage resource requirements, develop estimates and work plans and provide for deliverables, schedules, communications and quality of implementation projects.
Manage end to end project planning for development effort, including development team management, issue management, and change management as needed.
Recommend changes in development, maintenance and system standards.
 Design and develop actionable BI solutions that provide insights to decision makers by extracting, modeling, integrating data from different sources, and present in different analytical platforms (reports, dashboards, mobile, visualizations) based on user personas.
 Influence business and IT in designing solutions to report single version of the truth.
Proactively work with business users and source system analysts to understand and gain expertise in business process and data relationships.
Analyze the solution impact on existing systems and process, and work to finalize the scope and depth of testing required for production deployment.
Deliver projects by authoring/reviewing solution design, functional design, technical design, and test sets and collaborate with business in delivery.
Program, test, implement and maintain any data extraction programs necessary to extract the data from source systems and move to the data storehouse. Utilize development team to develop ETL and analytical solutions.
Develops business universes (semantic layer for ad-hoc reporting), reports, dashboards, and other business user facing analytics solutions.
 Work with security to secure the data. Work with the System, Database, and Application Administrators to ensure that application performs within the defined performance parameters.
Populate and maintain the metadata repository with up to date technical metadata such as data sources and transformation rules applied.
 Set up and Adhere to the organizational development process and standards.
Proactively recommend and implement enhancements and/or upgrades and ensure that architecture and technology standards are in place.
Experience & Skills
 5+ years related experience.
Very strong understanding of Data Warehousing principles, deep understanding Data architecture and data analysis approach.
Ability to design complex systems and translate user requirements into business solutions.
Experience in interviewing business users, collecting and interpreting requirements, explaining the solution details to business audience and run business meetings.
Experience in data analysis using SQL/PL-SQL, MS Excel (vLookup, Pivot Tables)
Experience in ETL tools such as SSIS, Informatica
Experience in Reporting tools such as Crystal Reports, Business Objects, Cognos, Power BI.
A process-oriented, continuous process improvement driven, with strong project management skills.
A qualified applicant would need to reside in the continental U.S. and have credentials for working in the U.S. A Preferred applicant would reside in the Asheville/Hendersonville, Charlotte and Greenville/Spartanburg SC metro areas.
Salary
The development Project is envisioned to be 12-18 months in duration. ADGA offers a competitive hourly rate on a 1099 basis to the qualified developer. There may be opportunity as the successful applicant for "contract to hire" at the end of the project.
How to Apply
Please submit your resume to Catherine Powell, Assistant Association Manager, powell@adga.org. Please copy Project Manager stennerg@adga.org .
Company Description
The American Dairy Goat Association was organized in 1904 to collect, record and preserve the pedigrees of dairy goats, provide genetic, management and related services of the highest possible quality to dairy goat breeders, while maintaining the validity of information, the integrity of the registry, and contributing to a positive public perception and political climate for the dairy goat industry that will provide optimum economic opportunities for Association members.
It is located in Spindale, NC in the foothills of the Blue Ridge Mountains an hour or so away from the Asheville/Hendersonville, Charlotte and Greenville/Spartanburg SC metro areas.