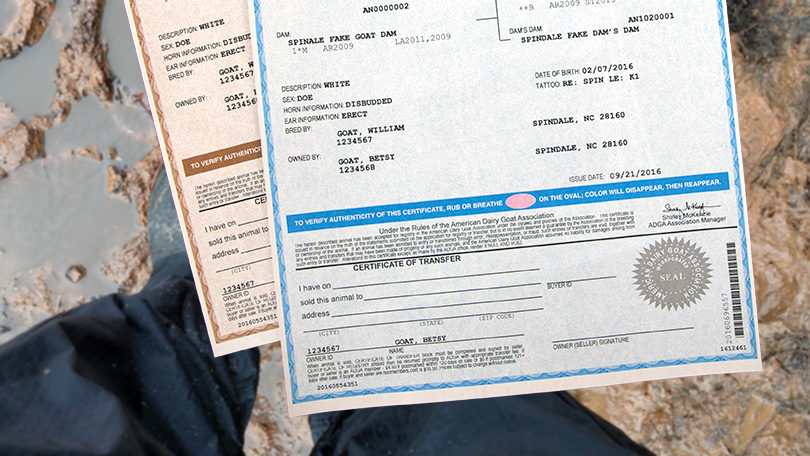 Transferring Ownership to You
When purchasing an ADGA registered dairy goat, the owner is the one who owns the animal on the registration papers similar to ownership on a vehicle title. In order for ownership records to change, you need to "transfer" ownership to yourself immediately after purchase.  The "Certificate of Transfer" is located at the bottom of the Certificate of Registry.
To transfer an animal to you, the Certificate of Transfer must be fully completed, signed and the original Certificate of Registry, including the Certificate of Transfer bottom portion, must be mailed to the ADGA office with the transfer fee.  It would be recommended not to purchase a dairy goat without the completed transfer section from the owner on the original Certificate of Registry in hand. For the ADGA office address or questions related to transfer see the Contact Form.  For fees see Rates & Services.
Within 7 to 10 days of receipt of the properly completed Certificate of Transfer in the ADGA office, a new Certificate of Registry will be issued and mailed to the one who submitted the Certificate of Transfer unless otherwise noted.  If there are problems with the transfer, a note on the receipt will be included with the returned Certificate of Registry specifying what needs to be corrected for the transfer to be successfully completed.
ADGA Membership has many benefits including lower transfer and registration rates. Become an ADGA Member Now or See Membership Benefits.
Selling to Another Person
If you are selling an ADGA registered goat you should complete the Certificate of Transfer on the bottom of the original Certificate of Registry and give the original blue or brown Certificate of Registry to the new owner.
If you sell an unregistered doe or intact buck with registered parents and wish to register and transfer it at the same time, simply complete item 12 on the ADGA registration application, which is a legal transfer form. Registration applications are available online at ADGA Forms.
Also see, How To Register A Dairy Goat >>