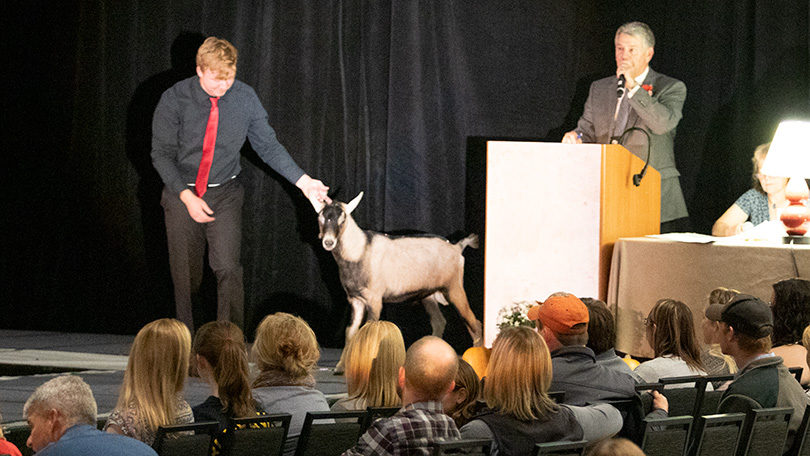 The Spotlight Sale is the premium dairy goat sale event of the year, occurring in October during the American Dairy Goat Association Annual Convention. While there are spotlights at the sale, the name better describes the scrutiny by which each animal is selected.
After meeting high health and ADGA breed conformity standards, the American Dairy Goat Association Spotlight Sale Committee weighs heavily each consignment nominee for milk production, linear appraisal scores, and show records. The committee selects the final sale consignments.
Consignors are also highly motivated to present their very best animal because their animal is under the critical "spotlight" gaze of all breeders and potential buyers.
Virgin does of any age are eligible and bucks must be twelve months old or younger at the time of the sale. All animals must have correct and legible tattoos, be free of physical defects, be functionally sound, and have interstate shipping papers.
At the ADGA Convention, consignments are housed in a bio-secure environment with 24 hour attendants. Each animal is displayed in an individual pen for several days preceding the sale.
What Happens at the Spotlight Sale?
The Spotlight Sale is typically a Saturday evening event, preceded by an hors d'oeurve buffet and complimentary champagne mimosas. Each dairy goat is meticulously groomed and paraded on a decorated runway, extending out into the audience. Spotlights highlight the animal as they are showcased on the runway.
While there is a charge for the buffet which precedes the sale, the sale itself is free and open to all who wish to attend. The pouring of complimentary champagne continues throughout the sale.
How You Can Buy A Sale Animal?
A professional livestock auctioneer runs the sale, while pedigree readers sit next to the auctioneer and read information as requested. Live streaming with online and phone bidding is sometimes available.
To stay informed about future Spotlight Sales, be sure to subscribe to the American Dairy Goat Association News & Events Newsletter, follow ADGA on Facebook and visit the ADGA Spotlight Sale page on the Annual Convention website.
How Do You Nominate A Dairy Goat?
The Spotlight Sale is a unique opportunity to accentuate the accomplishments you have made in your herd. Don't miss this opportunity to showcase your very best.
You can obtain a nomination form from any Spotlight Sale Committee member, the ADGA office or you can download a Spotlight Nomination Form online.
(Article resources include information provided by Allan Rogers and Stephen Considine.)
See this year's Spotlight Sale Consignments >>